Cooling Water Treatment
Cooling Towers, Evaporative Condensers, Chillers, Air Compressors & More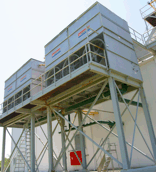 Maintaining the clean and efficient operation of your cooling towers, chillers, evaporative condensers or air compressors, is extremely important. These systems provide either process cooling for manufacturing or air conditioning for buildings. Mineral or biofilm deposits can cause increased energy costs or even downtime, (i.e., a 1/64" bio-film translates into a 30% increase in energy costs).

ServeTech's application-specific cooling water treatment programs are engineered to fit your equipment, operating conditions and water quality. Our treatment programs provide the best scale and corrosion protection, in concert with bacterial control, (Legionella and other bio risks). In partnership with our customers, properly executed cooling water programs will; 1) reduce utility costs 2) provide protection against bio-films and pathogens, 3) prolong equipment life, and 4) reduce downtime.

Scale & Corrosion Inhibitors: ServeTech products provide superior inhibition in scale and corrosion in any water. These products are specifically formulated for your system, water and operation.

Oxidizing Biocides: ServeTech alternating-product programs employ the latest bromine products to provide protection against biofilms, algae and other biological growths that reduce efficiencies, shorten equipment life and increase the possibility of Legionnaire's disease.

Non-Oxidizing Biocides: ServeTech non-oxidizing or dispersant products are alternated with our oxidizing products. Specific biocide selection is dependent upon the types of bacteria that are present your water, discharge regulations, equipment and operating conditions. When applied properly, our alternating-biocide programs provide clean, biologically- minimized systems.
Cooling Water Treatment Products & Services
Treatment
Technologies
Controls &
Dispensing
Analysis &
Testing
Consulting &
Services
C.I.P Treatments
Chlorine Alternatives
Chlorine Dioxide
Cleaning & Descaling
Corrosion Inhibitors
Defoamers/Antifoam
Deposit Inhibitors
Dispersants
Glycol & Hydronic Fluids
High-Purity Water
Non-Acid Treatments

Microbiocides (EPA Reg.)
Non-Oxidizing Biocides
Oxidizing Biocides
Ozone Generation
Passivation Products
RO/Reverse Osmosis
Scale Inhibitors
Solid Treatment (Drumless)
UV Disinfection
Washout/Flushout Products
Water Softening Programs
White Rust Prevention

Alkalinity Reduction
Brominators
Bypass Feeders (Pot)
Chemical pumps
Controllers: bleed-off & timers
Filtration & Separation
Glycol Feeders
ORP Controllers
pH Controllers
Reverse Osmosis
Softening Systems
Solenoids & Ball Valves
Timers (Contact & Bio)
Water Meters

ATP Micro Testing
Corrosion Monitoring/Analysis
Deposit Monitoring/Analysis
Failure Analysis
Laboratory Analysis
On-Site Analysis
Remote Monitoring
Test Kits
Water/Mineral analysis


*Most ServeTech
testing conducted by independent labs

Chiller (New) Passivation
Cleaning (Equipment)
Energy Management
Operator Training
Plant/Facility Flow Studies
Proactive Service-Program
Treatment Design Services

The material provided in this bulletin is informational in nature and is not intended to be instructions for a particular location or installation. There is no guarantee, warranty or other assurance of fitness of purpose or operational performance or results either express or implied. The user assumes all risk in following the information provided. Always read and follow product safety and performance instructions on product labels, Material Data Safety Sheets and those provided specifically for your requirements by your ServeTech representative.
ServeTech Water Solutions, Inc. - Wheaton, IL - www.servetechwater.com - info@servetechwater.com - 630-784-9050