ServeTech Mission Statement
| | |
| --- | --- |
| As a leader in water treatment science and technology, the MISSION of ServeTech Management, Inc. (ServeTech) is to ensure the continuous, efficient, safe and economical operation of our customer's heat transfer equipment, utilizing innovative chemistries, equipment, technologies and service products to control deposits, corrosion, and biological fouling in water-based systems. | |
A Message from the President
| | |
| --- | --- |
| | "ServeTech exists to be a true partner in the service of your operational needs. We understand that you need the safe, efficient and economical operation of your cooling towers, chillers, air compressors and boilers. Whether it's manufacturing plants (process) or buildings (air conditioning), we understand the meaning of continuous operation, efficiency and reliability of your heating and cooling systems." -Bryan Block |
About ServeTech
ServeTech Water Solutions, Inc. was founded by Bryan Block in May, 2000. Located in the Chicago area, our service area includes the Chicago metro area but extends throughout the Midwest, with accounts in Indiana, Iowa, Wisconsin and Michigan. ServeTech also has an extensive network of affiliates throughout the country, as a member of the AWT (Association of Water Technologies).

Bryan Block, President and CEO, has over 20 years of industrial, commercial and institutional water treatment experience, (with both national and regional water treatment companies). Additional personnel provide water treatment, service mechanical and/or technical expertise, as part of the ServeTech team.

ServeTech At-A-Glance:


ServeTech Overview
Locally-Owned & Operated (Since 1998)
Wheaton, IL-Based Operations
Treatment Professionals, Service
Professionals and Support Staff
Local: Chicago Metro Area
Other: 5 Surrounding States
Member: AWT (Association of Water Technologies)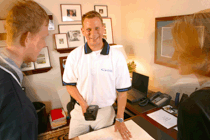 ServeTech treatment products are formulated and manufactured under our own label, (in both liquid and solid-form). ServeTech's in-field expertise coupled with state-of-the-art treatment dispensing equipment, will meet both customer and regulatory needs, in the consistent and economical delivery of our application-specific treatment programs.

Why choose ServeTech? The ServeTech difference is the unique combination of knowledge, experience, and latest technologies coupled with strong communications and an operations-orientation dedicated to the continuous, safe, efficient and economical operation of our customer's equipment.


The ServeTech Difference
Capabilities &
Technologies
Performance &
Service
Background &
Experience

Single-Source Treatment Solution
Liquid & Solid-Form Chemistries
State-of-the-Art Equipment
Green Treatment Solutions

Proactive Service Program
Industry-Best Follow-Up Program
Operations Training
Excellent Performance Record

Locally Owned & Operated
Breadth & Depth of Experience
Collaborative Business Model
Fair Value at a Fair Cost

ServeTech can help you make your operation more efficient and profitable by concentrating on the management of water and process systems in partnership with you. The combination of our products, knowledge, performance record, industry-leading service program, and proactive communications, make ServeTech a market leader. If you are seeking a business partner that?s ready to deliver superior results, call ServeTech. We look forward to serving your operational needs.
ServeTech Water Solutions, Inc. - Wheaton, IL - www.servetechwater.com - info@servetechwater.com - 630-784-9050